Dashboard
The creators of RabbitCRM have developed a highly effective and efficient dashboard. The colorful and pleasant user interface would glue the users to it and help them fill the required information engagingly. The search box in RabbitCRM dashboard fetches the required data using the keyword provided accurately. There are three types of graphs to give an insight into what is happening in your business. RabbitCRM has many dashlets showing details of New Leads, New Opportunities, New Accounts and they keep synchronizing according to the entry and will show the latest details first. There is a Task dashlet that shows all Completed, Current, and Upcoming tasks, need not waste time looking for such details. In Recent Notes segment you will see prominent notes entered by different users. On the right hand side of this you will see the latest posts posted through CRM messenger using which short messages, updates, important informations can be sent easily. And finally, we have two separate dashlets for Latest Opportunities and Top Opportunities.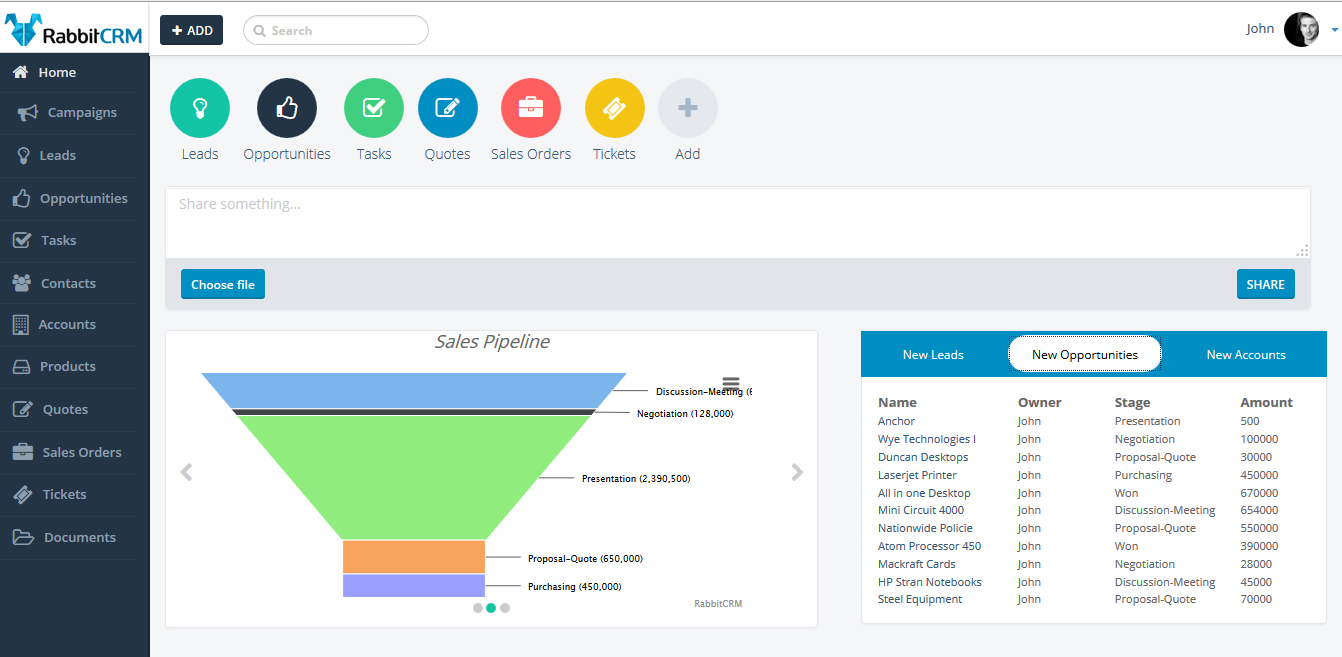 ---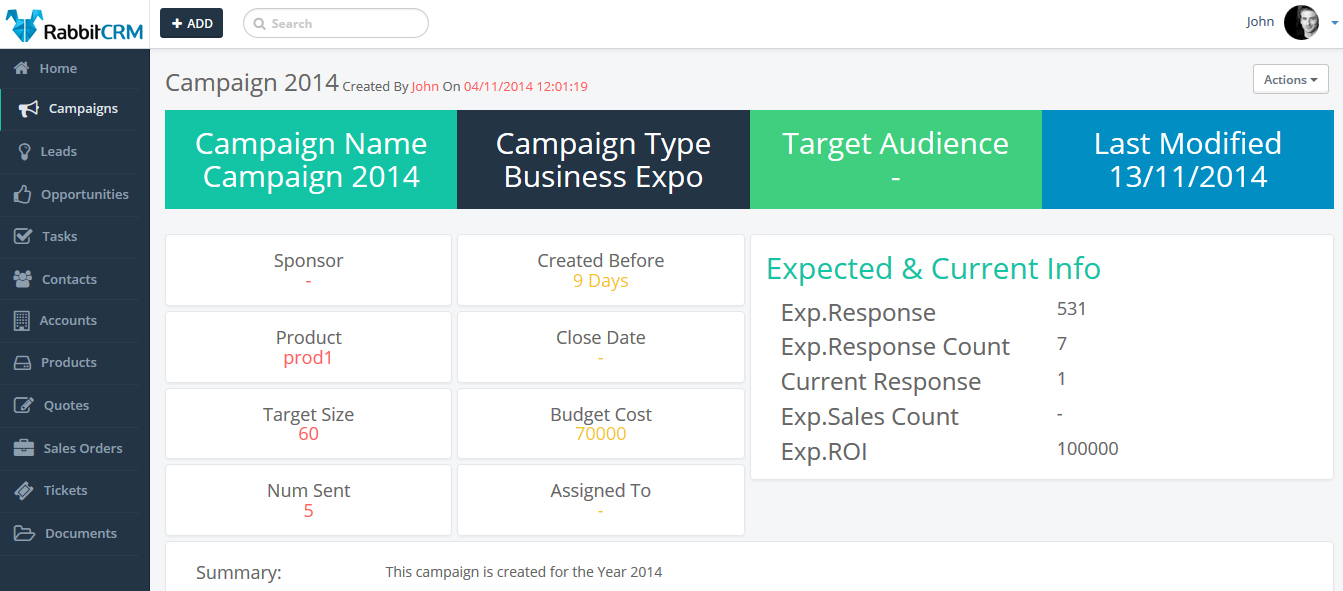 Campaign
Organizing a campaign is exciting but how about getting the most out of it. RabbitCRM will help you do that. You can add a campaign in RabbitCRM, decide your target audience, put all such details in RabbitCRM which can be used for future reference too. By doing this, you would be able to know how much you have spent on the particular campaign and the returns you got out of it, you can learn about effective campaigning methods that suite your business and you will also know the kind of response you got for your product/service clearly which will also help you tune up for the next event that you have in your mind.
---
Leads
Add your prospective customer's details collected from your marketing events such as campaigns, trade shows, etc in RabbitCRM Leads. Not all leads result in a sale and get converted into a customer, the ones not qualified will go to Archive for further reference, in case they change their mind and decide to buy later. You might get a prospect while traveling or through a phone call when you are rushing to some place, this is where RabbitCRM will play a role, instead of scribbling the details and risking to lose it, you can just sign in to RabbitCRM and key in the basic details to be followed up later. Check out the tutorial video to know how it works.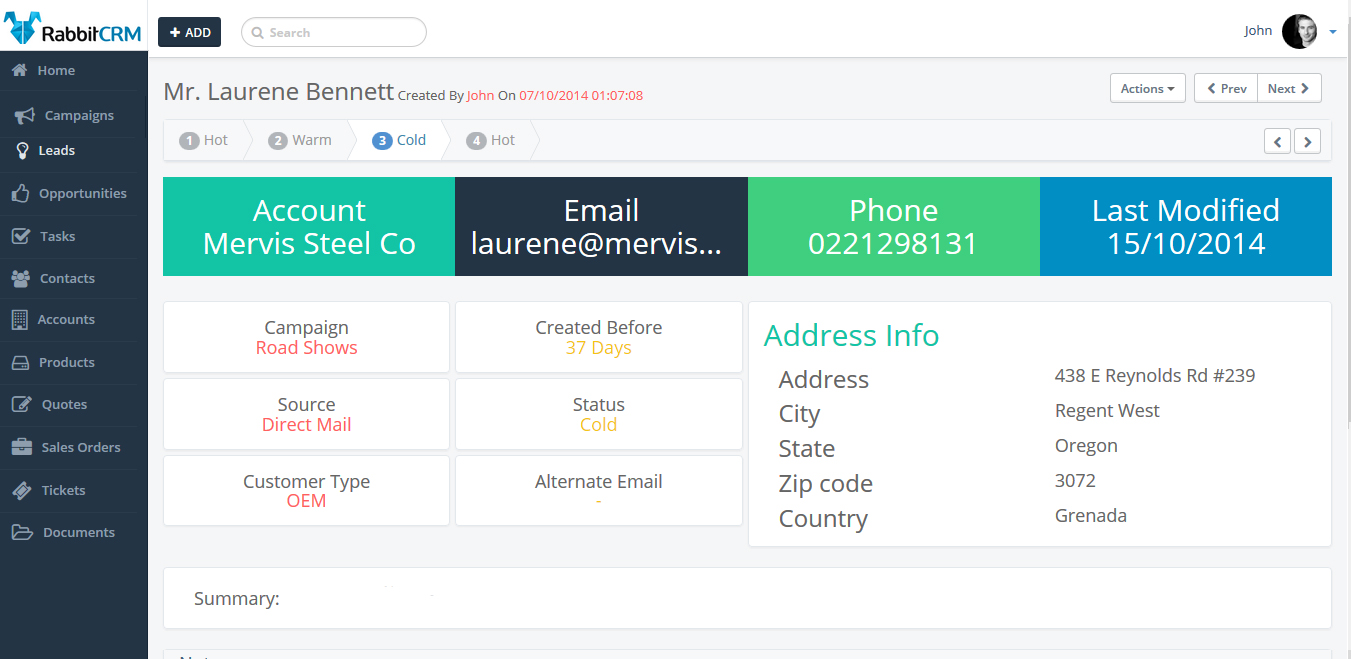 ---
Opportunities
An opportunity is a lead qualified for a sale. This happens when requirement from the lead matches the product/service that you have with you and a value is established for the same. In addition, an Account and Contact entries for this lead will be automatically created by RabbitCRM. Once all these are done, the lead entry will be deleted as it is converted into an opportunity now. The opportunities worklist has all the details in one page so that you need not navigate to different pages to get informations. All details relevant to the particular opportunity like Tasks related to it, Notes, Sending Mails, etc will be displayed in Opportunity Worklist.
---
Tasks
Using Task feature of RabbitCRM you can add a task, follow it up, thus not missing out on the smallest details which could result in missing the sale. This function allows you to keep a track of all the activities pertaining to an Opportunity. You need to move the progress bar as the task progresses to set appropriate status. You can add notes pertaining to a task in this module for reference. Administrators can assign a task to a particular user through this module and keep an eye on it by watching its progress.
---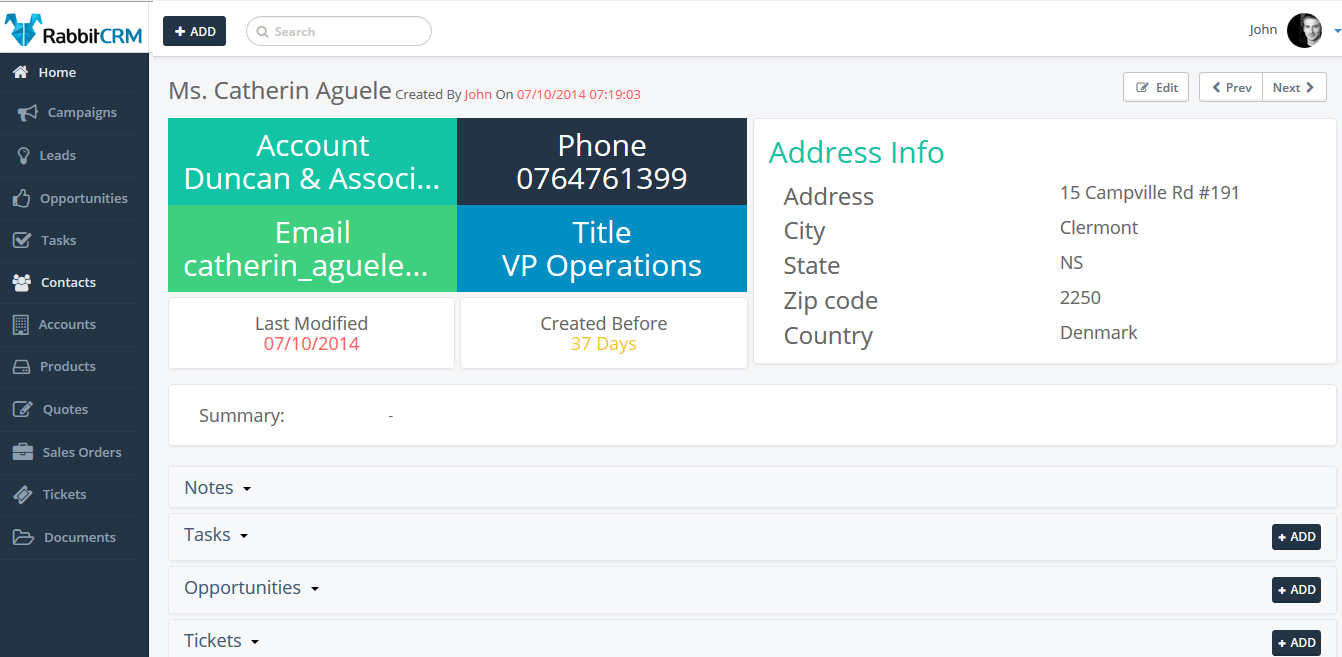 Contacts
Using this feature, you store contact information for a given customer or prospective customer. When a Lead is converted to an opportunity, a Contact for the prospective customer is automatically created in RabbitCRM. You can see the details of a contact in a single page. You can insert a note, set a task, view opportunities in this module. Additional contact informations can be added for particular leads.
---
Accounts
Using Accounts, a customer account record for a customer or prospective customer is recorded. When a Lead is converted to an opportunity, an Account for the prospective customer is automatically created in RabbitCRM. In Accounts module you can view company/organization contact details and through which campaign they came to know about you, etc. You can view a summary relevant to a particular account. You can add notes too.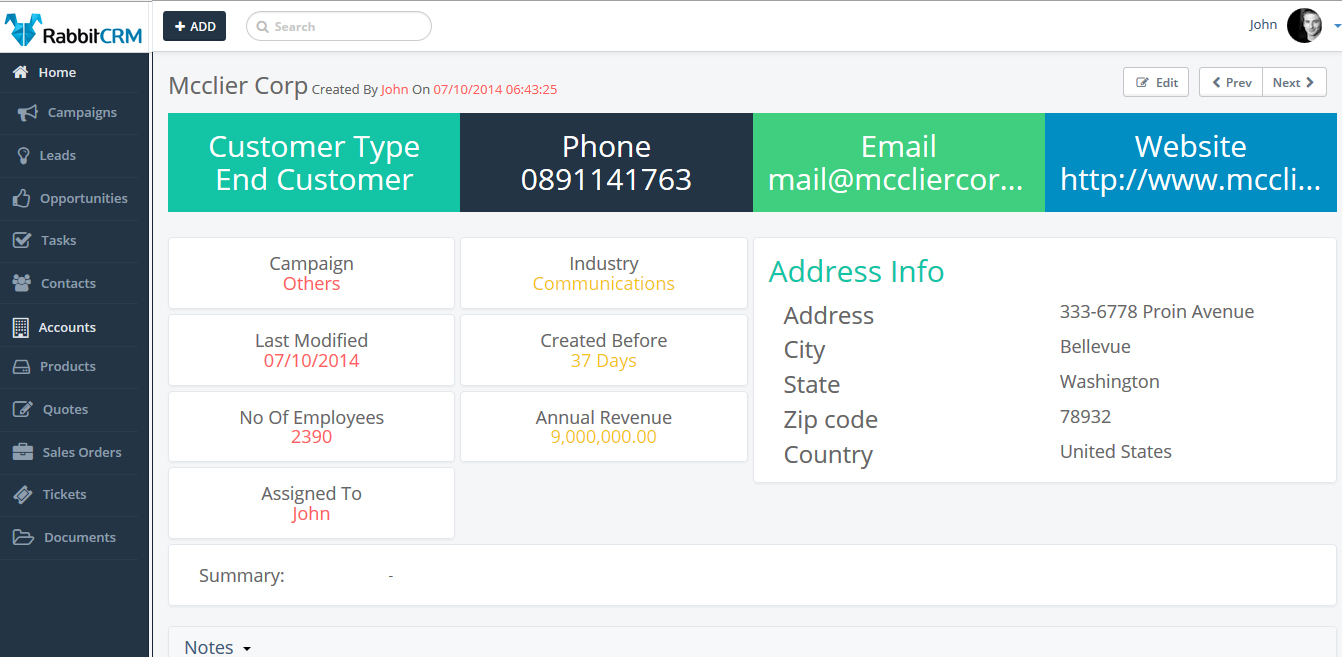 ---
Products
You can enter your products or services in this module. When you send a quotation for a product, informations added here can be accessed via a dropdown in quote creation page and the corresponding rate, discount, etc are retrieved. This feature will help the quote look precise as you need not enter the details manually every time, it is done once and RabbitCRM retrieves it when required. You can add/view notes, tasks relevant to the products in this module.
---
Quotes
Many organization find it difficult to send quote or rather the employees tend to make errors while doing so or miss out some details which makes the quote invalid and you end up sending it multiple times. RabbitCRM takes you through this level smoothly. You just need to click on Add Quote, fill in the Add Quote form and your quote is ready to be sent with all details including added. You can send this quote using Send Quote option and RabbitCRM captures the recipient name and a CC to you automatically in the mail compose section. You just need to put some contents and send it across. This can be done using mobile devices too. A sales order is created after quote is approved by the client.
---
Documents
Documents module is used to store your sales related documents such as price list, brochures, images, etc. You can share such documents among your colleagues too.